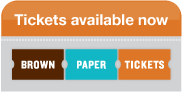 Music & Lyrics by Adam Guettel
Book by Craig Lucas
Based on a novella by Elizabeth Spencer
On a summer vacation, Margaret Johnson and her daughter, Clara, enjoy touring the Tuscan countryside. One day while sightseeing, Clara's hat mystically lands at the feet of Fabrizio Naccarelli, a handsome Florentine. This brief episode, charged with coincidence and fate, sparks an immediate and intense romance between the two young lovers.
Winner of the 2005 Tony® Award for Original Score, Leading Actress in a Musical, Orchestration, Scenic Design, Costumes and Lighting. Book by Craig Lucas with music and lyrics by Adam Guettel as based on a novella by Elizabeth Spencer.
"…it's impossible to shake the realization that the show, above all, belongs to Guettel…who has provided here music and lyrics nearly operatic in scope. The score counts among its offerings elaborate counterpoint ensembles (there's a full-out octet in the second act), searing arias, and even gently pulsing Italian pop-art songs…."  – Matthew Murray of Talkin' Broadway
"Guettel's score, with portions in Italian, is melodically inventive and at its best in songs such as Fabrizio and Clara's 'Passeggiata' and Margaret's 'Dividing Day,' which vividly convey the conflict embodied in the musical, the tug-of-war between passion and caution."  –  Peter Marks of The Washington Post
Sponsored in part by The Societá da Vinci.
Friday, November 6 @ 8:00pm – PREVIEW SHOW
Saturday, November 7 @ 8:00pm – PREVIEW SHOW
Friday, November 13 @ 8:00pm – OPENING NIGHT
Saturday, November 14 @ 8:00pm
Sunday, November 15 @ 3:00pm
Thursday, November 19 @ 7:30pm
Friday, November 20 @ 8:00pm
Saturday, November 21 @ 8:00pm
Tickets:  $22 Online  /  $25 At-The-Door
CAST:  Kimberly Christie (Clara Johnson), Jennifer Huth (Margaret Johnson), Paul Corujo (Frabizio Naccarelli), Peter Campbell (Signor Naccarelli), Andrea Arena (Signora Nacarelli), Daniel Urdaneta (Giuseppe Naccarelli), Marnie Karanek (Franca Naccarelli), Alicia Alaimo (Ensemble) and Caleb Duffy (Ensemble).
The Light in the Piazza is presented under special arrangement with R&H Theatricals.