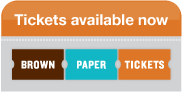 Take four actors portraying over 150 characters (including inanimate objects), a melodrama adapted from the 1915 novel by John Buchan, a 1935 film by Alfred Hitchcock, and add comic stylings the likes of a Monty Python sketch with a dash of theater magic and you have the wildly entertaining, fast-paced whodunit stage play, The 39 Steps. This 2-time Tony® and Drama Desk Award-winning treat is packed with nonstop laughs, lighting fast quick-changes, an on-stage plane crash, handcuffs, missing fingers and some good old-fashioned romance!
A man with a boring life meets a woman with a thick accent who says she's a spy. When he takes her home, she is murdered. Soon, a mysterious organization called "The 39 Steps" is hot on the man's trail in a nationwide manhunt that climaxes in a death-defying finale!
A riotous blend of virtuoso performances and wildly inventive stagecraft, The 39 Steps amounts to an unforgettable evening of pure pleasure!
"A wonderful triumph of theatre!" -BBC Radio
"Rollicking Fun! Hugely Entertaining!" – Sunday Times
Original concept and production of a four-actor version of the story by Simon Corble and Nobby Dimon. Adapted by Patrick Barlow in 2005.
CAST
Richard Hannay – Josh Innerst
Annabella/Margaret/Pamela – Sarah Joy Stone
Clown 1 – Shaun Yates
Clown 2 – Michael Gamache
Directed by Rosanne DellAversano, Michael Gamache & Shaun Yates
Friday, May 9 @ 8:00pm
Saturday, May 10 @ 8:00pm
Sunday, May 11 @ 3:00pm
Thursday, May 15 @ 7:30pm
Friday, May 16 @ 8:00pm
Saturday, May 17 @ 8:00pm
St. Stephen's Lutheran Church
1301 North Broom Street
Wilmington, DE 19806