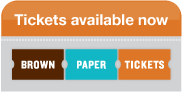 Direct from LA Fringe – making its East Coast premiere…
Watch a clip from LA Fringe Orange is the New Musical.
Your favorite Netflix prison series, Orange Is The New Black, gets the full parody treatment, complete with songs, dances and jokes inspired by the groundbreaking hit show. Join the behind-bars adventures of Piper, Alex, Red, Nicky, Crazy Eyes and more for a musical re-imagining of the day-to-day struggles of life in prison. OITNM is a gender-bending, mind-warping, laugh-till-you-cry musical spoof. Created by Jared Goode and Veronica Vasquez.
As a warm-up each night, audiences get to embrace their inner-child with The Shock Puppets. The gleefully profane sock puppet sketch comedy show created by Chris Manley of the Rose Theatre Company in Texas makes its audible gasp regional premiere with Bootless.
A far cry from standard sock puppet children's theater, The Shock Puppets embodies "all the messed-up s**t we normally can't do because there's a kid around." – Chris Manley.
ORANGE IS THE NEW MUSICAL & SHOCK PUPPETS – TOGETHER EACH NIGHT – 2 SHOWS FOR THE PRICE OF 1
May 5, 2017 @ 8:00 pm          May 6, 2017 @ 8:00 pm
May 12, 2017 @ 8:00 pm        May 13, 2017 @ 8:00 pm
Tickets: $15 Advance Purchase  /  $18 At-The-Door
Shock Puppets & Orange is the New Musical are for mature audiences. No one under 16 allowed. Photo ID needed for bar service.